---
---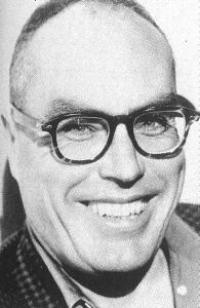 Perhaps due to the blue-collar workmanship of his films, no director ever made as many enduringly popular movies as John Sturges while being largely forgotten himself. Rarely has an artist ever made such popular body of work while making himself as anonymous as possible. No "look at me, I'm a director" touches. The movies occur. Stories of beauty and substance are told well. Just for that accomplishment alone, John Sturges deserves to be remembered as one of America's greatest filmmakers.

The Great Escape (1963). Simply THE World War II prison camp movie, which says a lot. Several stars Sturges' uses time and again are here, including Steve McQueen. First Sturges made McQueen a star. Then he made him a superstar. Finally, in The Great Escape, Sturges made McQueen a film icon. Based on the true story of the largest escape from a German prison camp during the war, Sturges conveys the triumph of the human spirit in the meticulous escape planning, the ingenious details, the courageous escapees, the ultimate tragedy -- and even the disillusionment of the non-Nazi Germans. It has equals, but you can't make a better movie.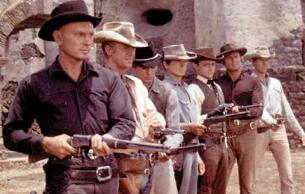 The Magnificent Seven (1960). While this is a remake of Kurosawa's Seven Samurai and is set in Mexico, in many ways it is the archetype American film. The near-perfect mix of story, music, personalities, pacing and visuals hits on every cylinder. When the peasants offer gunman-for-hire Yul Brynner the combined fortune of every person in the village, Brynner replies: "I've been offered a lot when I work... but never everything." Likewise, this film has everything. While some elements may seem cliched today, this is the film that made those things cliches. James Coburn and Robert Vaughn became movie stars, and Steve McQueen became a superstar: "I never rode shotgun on a hearse before."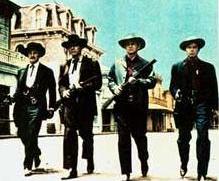 Gunfight at the O.K. Corral (1957). Burt Lancaster as Wyatt Earp, Kirk Douglas as the dying Doc Holliday. And then there is Rhonda Fleming, the hottest poker player in the history of the old west -- whom Wyatt Earp throws in jail for being a woman playing "a man's game"! Simply a superb film of heroism, tragedy and friendship, with as much well choreographed action as any 1950s film. The cast also includes John Ireland, DeForest Kelley and Dennis Hopper but Earl Holliman gets the best line that all professional poker players can appreciate when he says to Holliday: "Doc what are you doing up... it's only three!" Sturges revisits the same story, though telling it much more darkly, in Hour of the Gun (1967).



The Eagle Has Landed (1976). Like the Magnificent Seven, this is simply great professional filmmaking at its best. Every element hits its mark (even the buffoonish character played by Larry Hagman). Michael Caine stars as the English-speaking leader of a court-martialed German paratroop platoon whose mission is to kidnap Winston Churchill and bring him back alive to Germany. Break out the popcorn for this one. John Sturges' final film is one of his best.



The Law and Jake Wade (1958). One of my favorite psychological westerns. Marshall Robert Taylor travels to a small town to break crook Richard Widmark out of jail because Widmark once did the same for him. Widmark doesn't leave well enough alone though, and kidnaps Taylor, forcing him to recover some hidden loot they stole when they rode together years before. A particularly spooky Indian attack disposes of most of Widmark's gang (including DeForest Kelley at his best) and the knife-throwing scene in the finale offers Taylor a career-defining moment of acting, or non-reacting. The TNT network featured it for years in its western movie ads.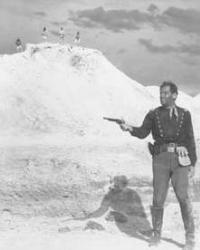 Escape from Fort Bravo (1954). William Holden had a virtual patent on cynical heroism with performances in The Bridge on the River Kwai, The Counterfeit Traitor, The Wild Bunch and Stalag 17. In this Civil War prison break slash Indian siege, he mixes that cynicism with General William Sherman-like ruthlessness. Sturges use of no dialogue in several key scenes makes them quite memorable as the reaction shots on Holden, William Demarest and William Campbell tell what is in their minds. The only flaw is John Forsythe is a bit weak as Holden's Confederate adversary.

Last Train From Gun Hill (1959). Kirk Douglas plays a Marshall whose wife is raped and murdered by two young, drunken louts -- one of whom is the only son of his oldest friend, played by Anthony Quinn. The stark portrayal of the brutality of the opening crime is shocking today, so one has to wonder how it was viewed 40+ years ago. Quinn rules the town of Gun Hill and at first wants to do anything he can to help his friend find the killers until he realizes his own son is responsible. Now Douglas is alone against the whole town of Gun Hill, and his friend. Brad Dexter is fine in a supporting role.



The Scarlet Coat (1955). One of the surprisingly few action films set during the Revolutionary War, Cornel Wilde stars in this story of the traitorous American Benedict Arnold and the heroism of British Major John Andre, executed for spying essentially as a stand-in for Arnold. The complex and almost liquid loyalties of the time are well depicted, and as always Wilde shines in his athletic, action-hero role. The vivid Technicolor costumes are quite a sight.

Bad Day at Black Rock (1955). Spencer Tracy is a mysterious one-armed visitor to a tiny, wind-blown desert town. The town folk aren't sure why he is there, and they sure don't like it, since they are hiding a dirty secret from the world. Incredible cast includes Robert Ryan, Lee Marvin, Walter Brennan and oh-so-nasty Ernest Borgnine.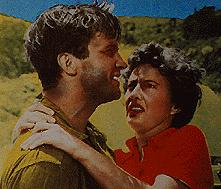 Jeopardy (1953). As movie premises go you can't do much better than this one: seeking help to save her beloved husband from slowly drowning while trapped under heavy timber on a remote Baja beach, Barbara Stanwyck solicits the aid of Ralph Meeker, who turns out to be an escaped convict-murderer who kidnaps her! Nobody does heroic villainy better than Meeker and Stanwyck does hysteria to the point you wish he'd shoot her, but when scenes hit, they really hit home.

Ice Station Zebra (1968). As 1960s Cold War spy stories go, this manages to be fairly realistic while still tense. Rock Hudson stars.

Backlash (1956). Written by Borden Chase and beautifully filmed, this has a few moments that make you go "hmmm?" (Donna Reed's wardrobe for one), but Richard Widmark is one of the all-time most watchable movie stars, especially in a shades of gray role somewhat the flipside of the personality he played in Jake Wade.

Marooned (1969). I like this "Lifeboat in space" story, but I can see how some would find it claustrophobic.

Never So Few (1959). Bizarre mix of tense, even groundbreaking action film and an hour of soap opera with Frank Sinatra wooing Gina Lollobrigida. Film is notable for its portrayal of Charles Bronson as a Navajo "windtalker" and for Steve McQueen's first important, personality-defining movie role.

The Satan Bug (1965). One of Sturges' unknown gems, a germ thriller.

The Magnificent Yankee (1951). Justice Oliver Wendell Holmes' story.

Right Cross (1950). Dick Powell, my favorite tough guy of the era, squares off with Ricardo Montalban in this boxing tale.

Mystery Street (1950). Nice film noir look at early forensic science.

The Walking Hills (1949). Randolph Scott, Arthur Kennedy, John Ireland and Ella Raines make a "who's who" of western actors.

Kind Lady (1951). Disturbing film with a very disturbed Keenan Wynn.

Old Man and the Sea (1958). Too claustrophobic for me, but Sturges and Spencer Tracy do Hemingway.

The Capture (1950) Nice portrayal by Lew Ayres of a detective who may have shot an innocent man.

Chino (1974). Watchable but mediocre Charles Bronson western.
Joe Kidd (1972). Watchable but mediocre Clint Eastwood western.
McQ (1974). Watchable but mediocre John Wayne action movie.
(The Duke is too old at 67 to be driving a Camaro playing Dirty Harry.)
Sergeants 3 (1962). The Rat Pack does Gunga Din... unfortunately.

Saddle the Wind (1958). Not much here unless you desire a western written by Rod Serling... starring Robert Taylor and a breakfast-stealing Charles McGraw... and co-starring John Cassavetes as a looney hothead! John Sturges' is uncredited.