---
---


Hollywood now often uses gambling, and less often card playing, to add a flavor to a movie. This occurred in the 20th Century too, but less often. Unfortunately most of these movies have silly scenes (House of Games) or stink (Honeymoon in Vegas) or both (Maverick). (The first poker movie I'm aware of is 1912's A Cure for Pokeritis, where a wife tries to "cure" her husband of his losing poker playing.)

Here is my list of ten good motion pictures that include the best card playing scenes in the movies. They have included many good scenes over the years, but this list does not feature TV shows like Maverick and Bat Masterson; telefilms like Kenny Rogers' Gambler series; or sitcoms (Grace Under Fire had Grace claim women can play poker because anyone who can fake an orgasm can raise on a pair of deuces).

The list deals with card playing. James Caan's The Gambler, Let It Ride, The Pope of Greenwich Village, The Hustler, The Color Of Money and others focus on other forms gambling. They belong on another list. Also, though it's played with cards, I've chosen not to include any movie with baccarat scenes (sorry, James Bond) since it's such a doofussy game.

1) California Split (1974). Though dated, this is the only movie to ever attempt to show the day to day life of card-playing, sports-betting, sleep-till-noon gamblers. Marred only by a bizarrely silly ending and muddled sound, California Split was directed by Robert Altman (M*A*S*H, Nashville). George Segal and Elliot Gould play rumpled Gardena poker players in search of a rush. World Series of Poker champion Amarillo Slim has a featured role.

2) The Sting (1973). When you play a cheater be sure you cheat better than he does. Paul Newman out-hustles Robert Shaw during a train-board poker game. Newman's boozy, needling performance -- and the shocked expression on Shaw's underling's face when he realizes they've been out-cheated -- reveal a glimpse of how below the polite veneer, poker is usually taken very seriously.

3) The Cincinnati Kid (1965). The finale to the most famous poker movie is so ludicrous it unfortunately damages the whole film. The Kid bungles the hand like a blithering idiot. Still, a movie with Ann-Margret, Steve McQueen and the line "That's what it's all about, doing the wrong thing at the right time" is worth seeing.

4) Kaleidoscope (1966). An obscure, pre-Bonnie and Clyde Warren Beatty film, Beatty breaks into a factory and doctors the plates that print the cards used by the major casinos of the world. He marks the cards in a way only he can see. Naturally, after these cards go into circulation, Beatty goes on the rush to end all rushes playing blackjack and poker. Unfortunately for him, when forced into a head-up no-limit game, they switch cards to ones he can't read. Now forced to play using only his wits, he traps his opponent into an enormous pot -- only to be faced with the best poker decision I've seen in a movie. Check it out.

5) Born Yesterday (1950). Gin is the game. Judy Holliday plays the ultimate dumb blonde while Broderick Crawford is the coarse man who keeps her. Watch Holliday play, and you will forever have a new view on "table image." Fine film, great scene. The tepid remake with Melanie Griffith and Don Johnson features a much weaker gin scene.

6) A Big Hand for the Little Lady (1966). If you swallow the fact that a player can walk across the street carrying her cards in the middle of a hand, and that you can win any pot simply by betting more money than your opponents can call, you should enjoy this movie with Henry Fonda, Joanne Woodward and a roster of fine character actors. The action centers around a poker game climaxing with "a big hand for the little lady."

7) Three Godfathers (1936). Several film versions of this story exist. The best is the 1948 version with John Wayne, but in this version, after Walter Brennan helps a complete stranger cheat at poker, the stranger asks, "Why did you do that?" Brennan replies: "I dunno. I guess I'm just a no good rat."

8) Dr. Mabuse - The Gambler (1922). Imagine how much you could make if you could use mind control to force an opponent to stand pat on three(!) in blackjack, and fold a winning hand in poker. Arch-criminal/lunatic Dr. Mabuse can do exactly that. Directed by Fritz Lang, Dr. Mabuse is perhaps the third best silent, foreign film -- after Lang's own Metropolis and Sergei Eisenstein's Battleship Potemkin. Lang and others made several fine sequels over the next four decades, but none featured cards or gambling so prominently. One line: "A dream of youthful ambition, to win at cards and love." Then there is this question asked on entering a private club: "cards or cocaine?"!!

9) Run (1990). Patrick Dempsey kills time at an illegal card game in New Jersey before legalization of casino poker there. Here we get a rare filmed record of a player tipping the dealer, and the waving off of obnoxious second hand smoke. The game climaxes when a belligerent, violent player forces Dempsey to draw one card instead of standing pat as he wants to. "This is a new twist: Gestapo poker." Run also is notable for being one of the best-paced movies you'll ever see.

10) The Gunfighter (1950). One of the all-time best serious Westerns, Gregory Peck stars as a notorious gunfighter who only wants to settle down to a calm life, but he is endlessly pestered by every little squirt in the world looking to make a reputation for himself. Despite the serious theme, there are two hysterical scenes. One features two old coots fighting (after a poker dispute). A third old coot watching says, "Iíve seen better fights than this in a prayer meeting." The brief poker scene features the coots playing poker in the local barbershop. When a new man walks in, the coots try to persuade him into the game. The new man says, "I wouldn't sit in this game with cards I made myself." This line has kept me out of many Omaha games over the years!

11) Rounders (1998). Of course I have to include this -- some good poker scenes, some ludicrous poker scenes, and an absurd lead character. This guy is supposed to be able to read his opponents like a book, but he canít see that his best friend and girlfriend are poisonous, disloyal parasites? Not a very good movie, but some decent poker, and you have to give it a tip of the hat for being the John the Baptist of the 21st Century poker boom.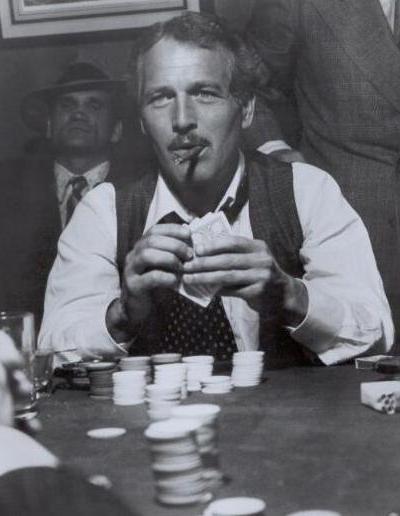 Honorable mention:
Gunfight at the O.K. Corral is one of many films to feature poker player Doc Holliday -- the original Doc. Great line: "Doc, what're you doing upÖit's only three!" Gunfight also has a scene where Wyatt Earp jails a woman simply because she's playing cards!

The Gambler From Natchez: 'How did you know he was bluffing?' "He kept looking back at his hole cards. If you got it, you don't need to keep looking back to see what you got."

A Man Called Sledge: "Hate don't belong in a card game, but old man, I'm gonna take every grain of gold you have in front of you."

Cheyenne Autumn (Wyatt Earp to Doc Holliday discussing what to do with a card cheat in their three-handed game): "If we shoot him, we won't have anyone to play with."

Flame of the Barbary Coast: "A deck of cards is like a woman -- usually when you pick one up, you wish you hadn't."

Dakota: '$20,000, you couldn't win that in a poker game!' "Not unless I was dealing."

Robin and the Seven Hoods (1964): "When your opponent is holding all the aces, there's only one thing to do. Kick over the table."

Canary Murder Case: "A man's true nature comes through when playing cards."

My Little Chickadee: "Is this a game of chance?" "Not the way I play it, no."

Michael Shayne - Private Detective: "Never play the other fellows game."

Also: Bob Le Flambeur (Bob the Gambler); Cool Hand Luke; Thursday's Game; Queen of Spades; White Savage (Jon Hall's sandwich); Lock, Stock, and Two Smoking Barrels; Mr. Cory; The Driver; Havana; The Odd Couple; Silent Running (poker with bots); Dark City; Mississippi Gambler; Tall in the Saddle (never cheat John Wayne); and several films featuring Poker Hall of Famer Wild Bill Hickock like The Plainsman. (The 1930s film, Aces & Eights, is not about Hickock.)

Also see Poker Movies.org