---
---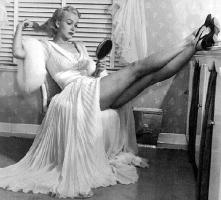 "Ladies are hard luck for men of action." -- The Saint in New York

Wars tend to stir the heterosexual libido. After the thirties, where Tarzan and Jane seemed to be the only ones having any fun, the finality and fatality of World War II seemed to get the public and the movies interested in the peculiar carnal desires of men and women when danger loomed -- especially when danger loomed. Thus came the birth of the Femme Fatale.

Sexy, confident, sensual, dangerous... everything a man ready to die for his country could ever desire. And desire they did. Suspense films carried femme fatales into the 1950s too, but there is nothing quite like a 1940s femme fatale. It's like somebody discovering for the first time that being naughty can be more fun than being nice.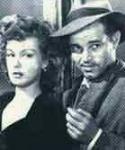 Some of the forties femme fatales became unforgettable parts of pop culture: Rita Hayworth flipping her hair in Gilda, Betty Grable's "legs", Veronica Lake's hairdo. Other forties fatales built well-remembered careers across film genres: Barbara Stanwyck, Rhonda Fleming, Dorothy Malone, Lana Turner, Gene Tierney, Gloria Grahame, and Ida Lupino. (Marie Windsor, Maxine Cooper and Jane Russell are better defined as 1950s fatales.) But beyond these are some mostly forgotten screen-melting babes who first helped change the face of women in film, and society for that matter. Here we remember ten that if nothing else deserve to be remembered. More Femme Fatale shots can be seen at Classic Film Star Photos.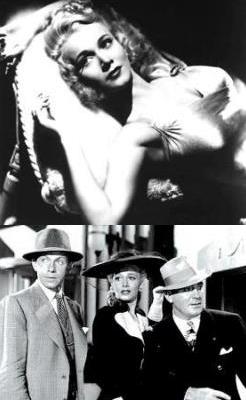 1) Carole Landis. No doubt about the first name on this list. In the noir classic, I Wake Up Screaming, Landis "plain" sister is played by... Betty Grable! Imagine outshining "the woman who won World War II". But Landis did it via a combination of confident personality and a face and body that would cost a fortune to buy today. In addition to Grable, Landis steals I Wake Up Screaming from a cast that includes hunky promoter Victor Mature, creepy police officer Laird Cregar ("He couldn't kill mice") and unsavory clerk Elisha Cook, Jr.

Besides Screaming and One Million B.C., Landis' tendency to overwhelm co-stars explains why she never got the plum starring roles more demure bombshells like Rita Hayworth and Rhonda Fleming got. She is also said to have had pronounced feminist views, dating back to her high school days when she organized a girls football team that was banned by the school's principal on the grounds it was "unladylike."

If the comedy/mystery Having a Wonderful Crime would have been an overall better movie ("Sometimes she doesn't make sense, but that's only when she's talking"), Landis' eye-popping swimsuit scene probably would be one of the most memorable shots of the decade.

The other important reason Landis should be remembered is for Four Jills in a Jeep, her book and film about her extensive USO travels during the War. Sadly though, Landis is more often remembered today it is for her 1948 suicide. (Carole Landis Photos)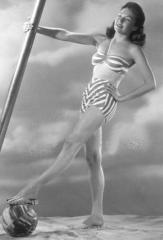 2) Lynn Bari. Memorably described as "Claudette Colbert with biceps", Lynn Bari appeared in over 130 films, more than half in unbilled bit parts. Eventually she graduated to leads in "B" films and second leads in "A" pictures where she usually played a home-wrecker: "I seem to be a woman always with a gun in her purse... I go from one set to the other shooting people and stealing husbands!"



A statuesque 5'7" when most leading ladies were a half foot shorter, Bari looked like she could smack the snot out of half of her leading men. Her career-defining moment of sultriness comes when she swaggers her way into a casino in Secret Agent of Japan. The camera just eats her up, as do the men in the casino. Playing a good girl or bad, she invariably exuded confidence and street smarts: "The best way to crack this case was for me to follow the smartest man involved in it." You have to wonder what kind of wimps men really were in these forties movies, always running home to their wives after meeting up with Bari's broad shoulders.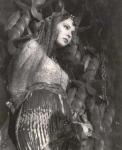 3)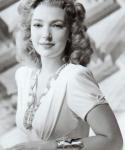 June Duprez. Even among film buffs, how many know the name June Duprez? While obviously none of these bombshells is completely forgotten, sadly June Duprez comes the closest. This despite having starred in three very successful, four-star films: The Thief of Bagdad, And Then There Were None, and The Four Feathers. Part of the explanation lies in the fact that her career was very brief, less than twenty films. While stuffed in an army uniform most of the film, one of Duprez's lesser known gems is the fine B-movie, The Brighton Strangler. An actor playing a murderer in a London play is struck on the head during a bombing raid and begins playing the role for real, heading off to Brighton, with June his next intended victim. June is also notable for a surprisingly modern style of acting, quite atypical for her time. No showy affectations or "hey look at me" mannerisms. She was Diana Rigg twenty years before Diana Rigg.




4) Audrey Long. An amazingly beautiful archetype of the blue-eyed, blonde "good girl", Long seemed to always get herself in mighty hot water. In Anthony Mann's Desperate, Raymond Burr wants her dead. In Robert Wise's Born to Kill, she has to deal with the menacing Lawrence Tierney. In Wise's underrated Game of Death, the first remake of The Most Dangerous Game, she's hunted like an animal (along with John Loder who also starred in The Brighton Strangler.) She even starred in two movies with "Perilous" in the title: Perilous Holiday and Perilous Waters. Oh, what is a good girl to do? In 1952, Audrey married Leslie Charteris, creator of The Saint.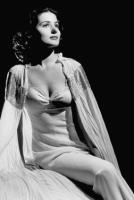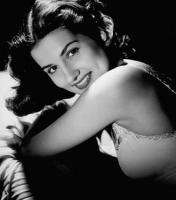 5) Brenda Marshall. Brenda Marshall was a spy. It seems like Brenda Marshall was always a spy. Her dark hair and eyes made her look sneaky, always secretly up to something, and she usually was! In the 1992 espionage thriller Shining Through, Melanie Griffith attributes her multiple spy brainstorms to Brenda Marshall films. Espionage Agent and Raoul Walsh's Background to Danger feature Marshall's smoldering, sexy don't-even-think-about-trusting-me personality. In spite of her diminutive stature, she managed to hold the screen with a slew of intense actors, including James Cagney, Errol Flynn, John Garfield, Alan Ladd and George Raft. She also starred in Anthony Mann's bizarro zero-budget film noir Strange Impersonation.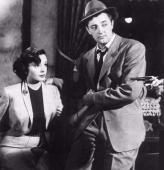 6) Jane Greer. While Jane Greer is certainly not unknown to film buffs, the general public is a different story. If anybody is Ms. Film Noir, it is Jane Greer. Out of the Past, The Big Steal, They Won't Believe Me are among the best of American film noir. In the fifties she followed Audrey Long's lead by starring in a second terrific remake of The Most Dangerous Game, this one with with Richard Widmark, Run for the Sun. She also played a great smart, bad girl in the western Stations West opposite another noir veteran, Dick Powell. While it would be hard to argue against her amoral, cold-blooded portrayal in Out of the Past as her best work, I like best her performance in The Big Steal, where she delivers a Joe Louis-like slap of Patric Knowles (whose genuinely surprised reaction really sells it) and her sharp, take-no-crap bantering with Robert Mitchum: 'Where's Fiske?' "Taking the parrot for a walk."



7) Audrey Totter. Lady in the Lake and Man in the Dark are very good noir/crime films and The Set-Up is an excellent movie, but Audrey Totter should be fondly remembered if only for her screen-burning portrayal of villainess Claire Quimby in Tension. Seldom has sloth been portrayed more graphically. Claire is simply the ultimate controlling, self-absorbed good-for-nothing. She very well might starve to death in a supermarket if nobody was around to hand her food. She nags (and nags and nags) wimpy husband Richard Basehart to the point of homicide. (Didn't she see He Walked By Night? Doesn't she know Basehart is as crazy as a rat in a can?) Claire Quimby at her sweetest: "If you haven't got the brains to agree with me, then keep your mouth shut."


8)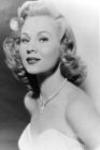 Virginia Mayo. Virginia Mayo is well-remembered today for many portrayals of Ladies and Princesses and other patrician, goody-two-shoes, blueblood types in comedies a nd song-and-dance movies. But when she went bad, she went all the way. In Raoul Walsh's White Heat she was sleeping around, shooting mother-in-laws in the back, ready to rat out anybody or everybody, whatever would serve her manipulative purposes. ("You cheap copper.") This performance could be taught in university sociology classes, as proof that while bad girls may go everywhere, there is nothing quite so compelling as a good girl gone bad.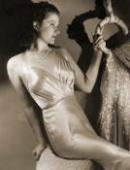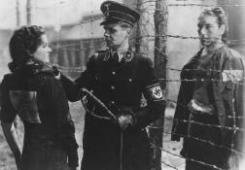 9) Margaret Lockwood. The only thing that compares with a good girl that goes bad, is a bad girl who goes good. Margaret Lockwood played enough naughty women in her career that she even earned the nickname "Wicked Lady". But her most memorable roles are heroic, and both set on trains. In Hitchcock's The Lady Vanishes she battles spies, Nazis, disbelieving fellow passengers, and even a lecherous Michael Redgrave to save Miss Froy. In Carol Reed's Night Train to Munich she fights off the advances of Paul Henreid and Rex Harrison while helping her father escape the Nazis. Both movies also feature Basil Radford and Naunton Wayne as Charters and Caldicott, two English ultimate twits who care more about cricket than world events, until their own sense of fair play is pushed to the limit.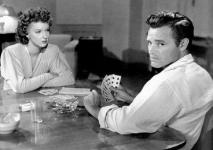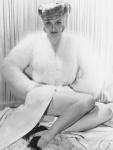 10) Ann Savage. Many critics view Edgar G. Ulmer's Detour the American film noir, and Ann Savage the femme fatale to end all femme fatales. ("Shut up! You're making noises like a husband!") On the other hand, the name of "that black widow in Detour" can escape the memory of even dedicated film buffs. None of her other movies could be called great -- though in Apology for Murder she made a killer of Leave it to Beaver Dad, Hugh Beaumont. The capping proof of what a bad girl Ann Savage was: She retired from movies in 1953, except appearing in 1986's Fire With Fire where she plays... a nun!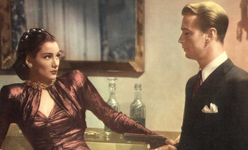 11. Doris Dowling. To describe Doris Dowling as "forgotten" is like describing a hydrogen atom as "small". Despite appearing in The Lost Weekend with Ray Milland and in Orson Welles' Othello, as well as dozens of TV shows, Dowling is virtually unknown today.

It's a shame too as her wonderful portrayal of Alan Ladd's gleefully unfaithful wife in The Blue Dahlia is one of the most unapologetically slutty femme fatale performances of the 1940s, even though she is only onscreen for a short time. She later characterized her role as that of "a savage bitch killed off in the first scene".

"Every man I knew went to bed with Gilda... and woke up with me." -- Rita Hayworth